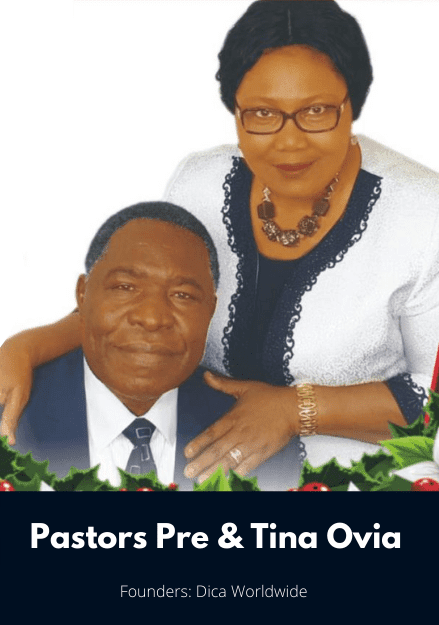 OUR ROOTS
DICA - Worldwide
Pastor Pre Ovia is the founder of Destiny International Christian Assembly. He is the General Overseer of DICA worldwide with the headquarters in London, UK. He had been in ministry for over 30yrs before God called him out in 2006 to start DICA. Pastor Pre preaches the uncompromising word of God with great insight. Pastor Pre is blessed with wisdom, a plethora of gifts and talents, and is devoted to his calling of developing other people to fulfill their potential in Christ Jesus. He is committed to enabling them to identify their latent God-given potential and provides support all through the training and developing process. A Pastor of pastors, he has nurtured many to the point of running their own congregations as well as living out their callings. Pastor Pre travels worldwide teaching and strengthening the body of Christ, working with many ministries to expand the kingdom. He is married to Pastor Tina Pastor Tina Ovia co-labors with her husband and is the founder of Daughters of Destiny (DOD) International, the women's arm of DICA. DOD is a mentoring network for virtuous Christian women, to help women achieve their God-given destinies. Pastor Tina is a Mother in Israel who is passionate that everyone has a specific gift as well as a sphere of influence within which to effect spiritual change, economic development, and social reform according to God's design.
Our Vision
Establishing Ministries and Releasing Destinies through the preaching of the gospel of our Lord Jesus Christ being the power of God unto salvation to all that believe.
Mission & Purpose
To Exalt the Lord Jesus Christ and make His truth and love known; Evangelize the Lost for Christ; Edify and Equip the body of Christ and to Reach our community for Christ.
OUR LEAD PASTORS
DESTINY CHURCH YORKTON (DICA)
Destiny Church Yorkton a.k.a DICA Yorkton is led by Pastor Dag together with his wife, Bukky. The Yorkton branch of DICA started in 2011 after months of seeking the face of God for direction. Pastor Dag gave his life to Christ during his undergraduate days at the University of Ibadan. He is an ardent teacher of the word. He has the desire to help Christians grow in their faith and walk with God and for people to realize the real purpose for their existence. Pastor Bukky co-labors with her husband in ministry. She became a born again Christian in her first year at the Obafemi Awolowo University. She is passionate about God and His kingdom. Her desire is to see every child of God fully rooted and established in Christ. The vision of the ministry is to equip the saints with the undiluted word of God in preparation of the second coming of Christ. Dag and Bukky have a passion for the Lord, the Word, and for the salvation of souls. They are both graduates of medicine and pharmacy respectively.